Track Listings – CD Art, Reviews (see below) and Other Stuff!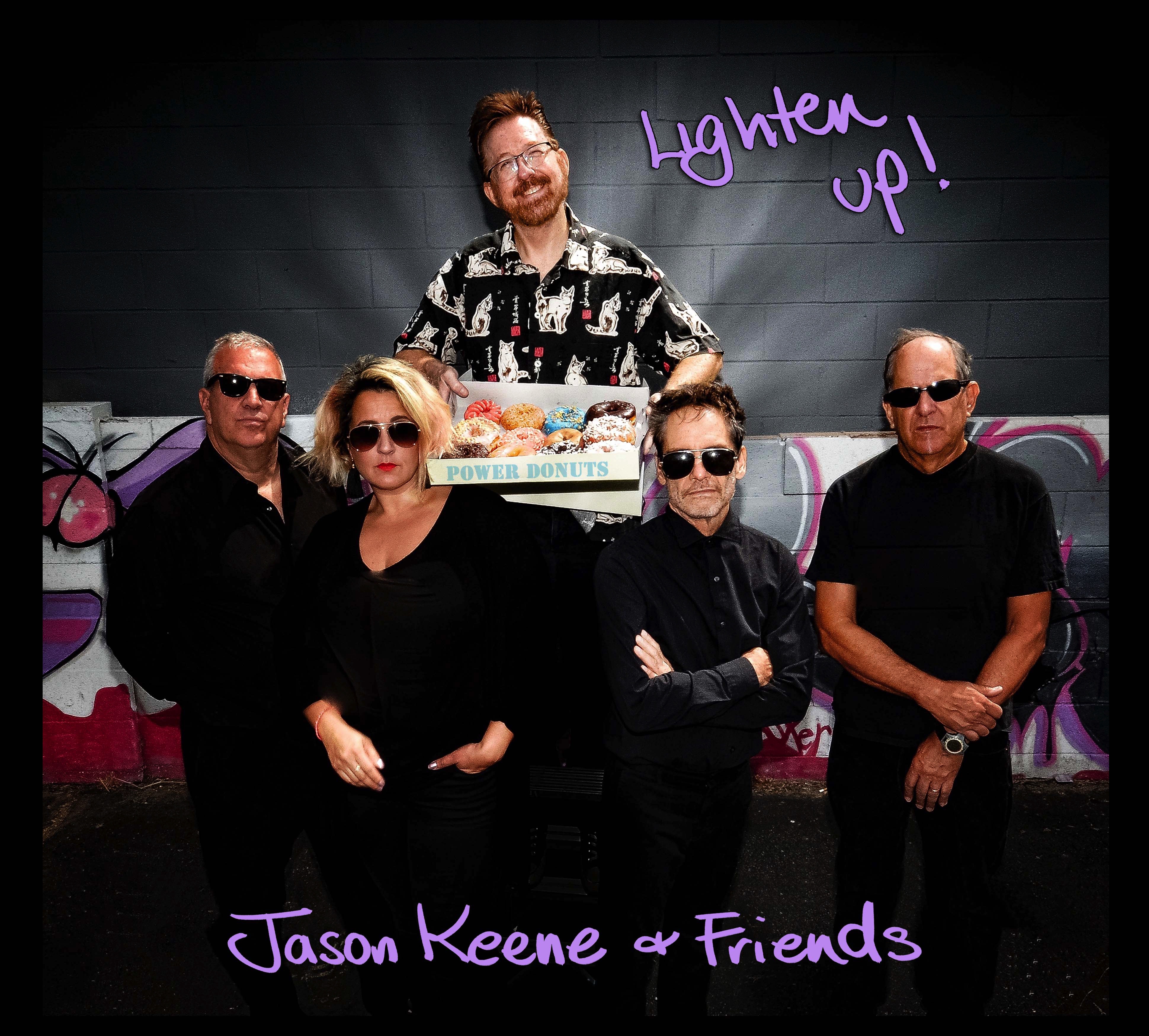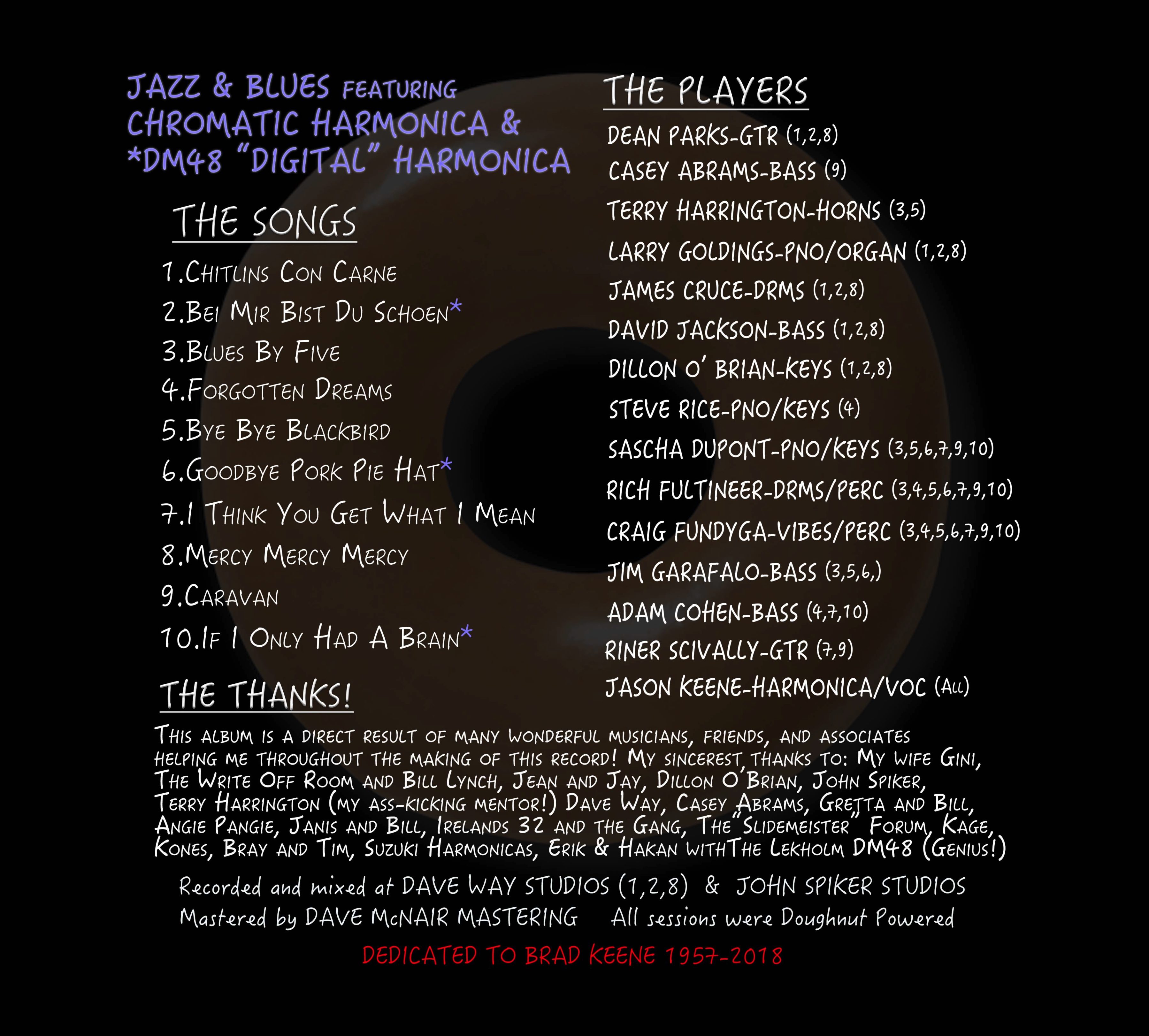 REVIEWS
From PT Gazell– Check out his OUTSTANDING album "The Loft Sessions" It will blow your mind!
Jason Keene ~ "Lighten up"
There are a small number of chromatic harmonica players currently active that I listen to whenever I see a video clip or receive a CD. Chris Bauer, Clint Hoover, Rob Paparossi, Slim Heilpern and Hendrick Merkins are among those who definitely get my attention. I now have to add Jason Keene to that list.
I first became aware of Jason when I was getting ready to record the Benny Goodman classic "A Smooth One." I stumbled across his YouTube version while trying to decide how I wanted to treat the song. Interestingly, Jason's version was done on the DM48 that is a sampler for chromatic harmonica. Jason used the tenor sax sample and quite simply blew me away! Not only was his harmonica technique spot on, but also his improvisation was very much in keeping with what a sax player would do. As a side note the DM48 is fantastic sounding. If they made one for diatonic I would get it!
I had to hear more…Next I found "Candy" and "Angel Eyes," two more songs I have recorded. Jason's thought process and imagination are very very cool.
Fast forward to last week when much to my surprise and pleasure, Jason graciously shared his first solo CD, "Lighten Up." It did not disappoint. The production is first class and so are the other players including the likes of Dean Parks on guitar.
Jason presents us with a wide variety of genres over 10 songs and all are done tastefully. The DM48 is only used 2 or three times but is executed perfectly. I had not heard the Clarinet sample till this project and it sounds as good as the sax. The guitar sample and Vibe solo on "Goodbye Pork Pie Hat" are really noteworthy.
Standouts for me off the project are, "Blues By Five" (which I have already stolen,) "Goodbye Pork Pie Hat" (Using the guitar sample on the DM48…wow) "Mercy, Mercy, Mercy," and "If I Only Had A Brain" with Jason doing all the horn parts (DM48) in a Latin style setting.
If you like Chromatic harmonica I strongly suggest this project. Jason Keene is now another name that should be mentioned when we talk about chromatic harmonica. His groundbreaking work employing the DM48 is really quite astonishing.
Bravo Jason!
From Brendan Power– world class Harmonica player and customizer
"I'm enjoying listening to Jason Keene's debut solo album 'Lighten Up'. Featuring a host of top LA studio musicians augmenting Jason's excellent jazz chromatic harmonica (and DM48 MIDI harmonica on a few tracks), the playing and production throughout is top class. Good time jazz and funk played with skill, style and panache, it definitely achieves the aim in the title. I recommend it!"
Recorded @
Tracks 1, 2, and 8 were recorded at DAVE WAY STUDIOS
All other tracks were recorded at JOHN SPIKER STUDIOS
Mastered by DAVE MCNAIR MASTERING
Track 1
Track 1: A trippy version of Chitlins Con Carne led by Dean Parks' spaghettified guitar twang and an ethereal harmonica sound. Larry Goldings plays the Hammond, and Dillon O' Brian sprinkles funk dust throughout. David Jackson and James Cruce hold down the fort with their tasty 60's style rhythm section.
Track 2
Track 2: The Yiddish classic Bie Mir Bist Du Schoen performed with the DM48 digital harmonica and accompanied by the same crew as in track 1. This was the one and only take, and we were all having so much fun the laughter actually bleeds through at the very end.
Track 3
Track 3: The band steps up to the plate, blasting through Blues By Five with Terry Harrington on tenor sax doubling the harmonica, and then kicking off the solos followed by Sascha Dupont on piano, Craig Fundyga on vibraphone, and Jim Garafalo on string bass. Rich Fultineer swings those brushes!
Track 4
Track 4: An original jazz arrangement of Leroy Anderson's Forgotten Dreams, this tune starts off in the original straight 4/4 then veers off to a hefty swing with some 3/4 time thrown in on the bridge. Steve Rice on piano beautifully re-harmonizes. This was a theme song for the station sign-off after the Late-Late show on New York television- which I was invariably up watching. Young folks may have to google what a "station sign-off" is…
Track 5
Track 5: A sprightly version of Bye Bye Blackbird with a slick backbeat, Jim Garafalo's tasty bass, and some shaker thrown in to keep the vibe cool, and groovy, yeah man! 😉 Check out Terry Harrington's light touch on clarinet.
Track 6
Track 6: With apologies to Jeff Beck, here is a version of Goodbye Pork Pie Hat featuring the DM48 Digital Harmonica playing the lead with a guitar-esque sound and the band rocking away. Craig Fundyga delivers a spacey solo on vibes worthy of headphones in the dark, late at night.
Track 7
Track 7: Yep, the kid sings. Originally performed by The Nat "King" Cole Trio, I Think You Get What I Mean is a little tune that suggests guys be nice to their chicks, because they're "all that matter"! A lovely sentiment indeed! Riner Scivally adds a gentle guitar sound, while Sascha Dupont shines on piano with a Nat-like touch, but 100% Sascha!
Track 8
Track 8: A funky, retro version of Mercy, Mercy, Mercy has Dean Parks and Larry Goldings keeping it bluesy with the harmonica chewing away. Lots of interplay between Dillon and Larry on Mellotron and piano, Dean's solo is as cool as James Bond. Maybe even cooler…
Track 9
Track 9: The amazing Casey Abrams slams the string bass with Caravan on this one take duet between bass and Harmonica. Riner ands Craig added the other-worldly sounds on vibes and tremolo guitar, while Rich paddled away on congas. A huge shout-out to Casey, who literally popped over with hours to spare before embarking on another world tour. Cheers!
Track 10
Track 10: Recorded live in the studio using The DM48 Digital Harmonica for horn-esque parts, this latin flavored version of If I Only Had A Brain clips along at a righteous pace, prompting a few "woos!" from Rich on drums who was working up a sweat! Adam Cohen absolutely shreds on his bass solo. Recorded at the end of the day, and definitely powered by the mighty doughnut!